Review of 2006 and outlook for 2007
Key points
Despite a mid-year inflation scare, 2006 provided pretty good returns for investors from most asset classes.
2007 is likely to see global growth slow enough to take pressure off inflation and interest rates, but not so much as to crunch profits. This and excess global savings should ensure another year of solid investment returns.
The key themes of 2006
Compared to the tsunamis, earthquakes, hurricanes and terrorist attacks of 2005, 2006 has been relatively quiet on the calamity front. In terms of the global economy it has been a year of two halves. The first half was characterised by strong broad-based growth, with most major regions of the world participating. This led to inflationary pressures and rising interest rates. The first half was also characterised by surging commodity prices driven by strong demand, tight supply and speculative activity.
Through the second half of the year it became evident that growth in the US and China was starting to cool and inflationary pressures were receding. As a result, the trend in interest rates became more ragged. US interest rates have gone sideways since July and it appears likely that Chinese monetary tightening is largely over.
In Australia, unemployment fell to 4.6% for the first time since 1976 and booming tax receipts allowed more big tax cuts. But despite record commodity prices, the Australian economy's performance was rather disappointing. Economic growth slowed to around 2% as housing remained soft, business investment slowed and growth in export volumes remained disappointingly weak. On top of this, underlying inflation rose to around 3%, prompting three more interest rate hikes from the Reserve Bank (RBA). The economy remained in "two speed" mode, with booming conditions in WA and QLD contrasting with very subdued conditions in south-eastern states.
Strong investment returns continue
Despite a bout of inflation and interest rate worries around mid-year, 2006 provided another year of strong returns:
Global shares provided solid returns on the back of reasonable valuations, strong profit growth and plenty of money looking for a home. Cashed-up private equity funds were a big driver of merger and acquisition (M&A) activity both globally and in Australia, propelled by the low cost of capital relative to earnings yields and low corporate gearing. The Japanese share market, the star performer in 2005, was the laggard this time around, but with Asian shares being star performers.
While the Australian dollar (A$) stayed in the range it has been in for the last three years now, it rose over the course of the year, and this reduced the returns from global shares by about 3% in A$ terms.
Australian shares yet again managed to come in way ahead of most investors' expectations, including mine, thanks to profit growth of around 15% to 20%, still reasonable valuations and M&A activity. It is worth noting that share market gains were broad-based, and hence far healthier than was the case in 2005 when they were more narrowly based on resources shares. Australian companies have maintained their margins in the face of cost pressures far better than many thought possible.
Bond returns were relatively soft, reflecting their relatively low yields. No great surprises here.
Non-residential property returns were very strong. Both Australian and global listed property securities benefited from a continued chase for yield, a quest for defensiveness on the part of investors and M&A activity. Unlisted non-residential property benefited from attractive yields and a strengthening office sector.
Infrastructure and private capital had another strong year, with returns around 20%.
Finally, residential property on average provided a third year of relatively disappointing returns on the back of poor affordability, low rental yields, better opportunities elsewhere and rising interest rates. However, the national average masked a huge divergence from negative returns in western Sydney to 30% plus returns in Western Australia.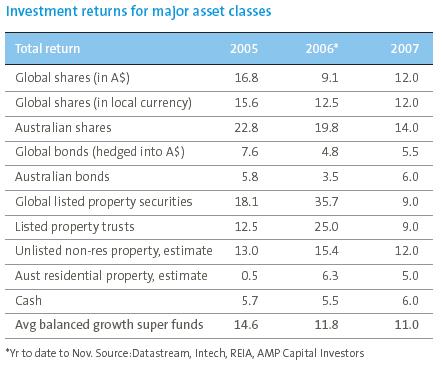 Outlook for major asset classes in 2007
Strong investment returns for the past four years and declining global growth suggest an uncertain investment outlook for 2007. However, our assessment is that investment returns will remain solid. Key macro themes are as follows:
Global growth will undergo a soft landing as occurred in the mid-80s and mid-90s. This is critical, as a hard landing would crunch profits, undermine valuations and force risk premiums higher. Reasons why we expect a soft landing: interest rates were never high enough for a hard landing; while the US housing sector is doing it tough the corporate sector is in good shape; and Europe, Japan and Asia are stronger this time around.
Commodity prices are likely to continue churning at high levels for the next six months thanks to moderate global growth, but with a subdued supply response providing a floor. Renewed strength is unlikely until second half of 2007, when global and Chinese growth will start to pick up. By the end of 2007 metal and oil prices will likely be at new record highs.
The inflation threat will abate as economic growth slows. The global glut of capital and labour will intensify, pushing inflation down.
Slowing growth and receding inflation will see the interest rate cycle turn down. By March, we expect the US Federal Reserve (Fed) to be cutting interest rates. Rates in Asia including China are likely to fall too, while Japan and Europe will be little changed.
The world will remain awash in excess capital (eg.fromAsia, oil-rich countries) chasing investments.
Profit growth both globally and in Australia should remain positive, but is likely to slow to around 10% or less as demand growth slows down. The conditions for a profit slump are not in place.
Economic conditions in Australia are likely to be relatively subdued, with growth somewhere around 2% to 3%. Weak housing investment, constrained consumer spending and drought will be partly offset by a pickup in mining sector exports. Sub-par growth both globally and in Australia should see underlying inflation head down, allowing interest rates to fall from mid-year. By end 2007 we see the cash rate at 5.75%.
Looking at the major asset classes:
Global shares should provide decent returns over the next year.Valuations remain reasonable, profit growth should be okay and there is still plenty of cash looking for a home. Asian shares are likely to be outperformers thanks to better valuations and growth prospects. US shares are likely to outperform European and Japanese shares as US interest rates fall.
The A$ is likely to remain stuck in the US$0.68 to US$0.80 range. While the A$ is modestly overvalued above US$0.70, it should remain supported by relatively high commodity prices and interest rates.
In Australia, the ASX 200 share index is likely to rise to around 6,100 by the end of 2007 thanks to attractive yields, still reasonable profit growth and resource sector strength.The usual signs of a major market top are not present – valuations are okay, sentiment is not euphoric and capital raisings and M&A activity are still modest relative to market capitalisation. With profit growth likely to slow towards 10%, capital growth should slow. But with the dividend yield being well above that for global shares, the Australian share market should continue to outperform global shares. The investment of Future Fund assets, currently A$32 billion, will also provide support. Sectors likely to do well include media, insurance, software and resources.
Bonds still offer relatively poor returns, reflecting their low running yields. But with growth slowing, bond yields are likely to fall further, helping to boost returns a bit above running yield alone.
Listed property, globally and in Australia, is set for returns of around 9%, reflectingstill reasonable yields and solid underlying property markets.
Unlisted non-residential property should have a strong year with returns of around 12% as investor demand continues to push yields down and supply/demand fundamentals remain favourable.
Residential investment remains unattractive. Australian housing is 20% overvalued versus rents and wages. Gross rental property yields of 3.2% compare poorly to other investments, housing affordability is poor and if house prices did turn up, the RBA would likely raise rates again. Expect Perth to slow as poor affordability starts to bite.
Overall, our return expectations shown in the table earlier suggest a gain of around 11% for diversified growth investment strategies in 2007.
What could go wrong?
Thinking of what could go wrong is easy – but eight times out of ten things turn out okay. Threats are likely to come from higher than expected inflation and interest rates, the US housing slump driving a sharper downturn in the US and a hard landing in China. Election uncertainty may also have an impact on Australian shares at some point, but this is unlikely to be lasting. An acceleration in PE multiples and M&A activity is an upside risk for shares in 2007.
Conclusion
While investors should expect a correction along the way, 2007 should see solid investment gains as the interest rate cycle turns down and the world remains awash in savings.
Dr Shane Oliver
Head of Investment Strategy and Chief Economist
AMP Capital Investors