Australian fixed interest & cash as at 30 November 2006
In response to concerns over the inflationary potential of strong demand and capacity constraints in parts of the economy, the Australian Reserve Bank decided to raise overnight cash interest rates by 0.25% to 6.25% last month. With this change being widely anticipated, there was minimal impact on interest rates fixed for longer terms. In fact, the 10-year Government bond yield dropped from 5.7% to 5.6% over the course of November.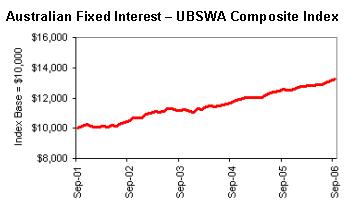 The slightly lower longer-term interest rates provided an average positive return of 0.8% for fixed interest investors. Over the past year, fixed interest investments have delivered a return of 4.4%, still well below the prevailing overnight cash interest rate.
Our view
The 6.25% now available on overnight cash investments represents a superior return to the 5.6% available on longer-term investments; with the latter not compensating for any of the risks of continued inflationary pressure in Australia. We maintain an overweight cash and underweight fixed interest tactical recommendation.