Australian shares as at 30 November 2006
The Australian sharemarket reached yet another new high in November, with an advance of 2.4%. November's increase brought the annual return to investors to 23.8%. Such has been the strength of the Australian equity market that an index based investment made 3 years ago would have now doubled in value.
Australian ASX S&P 200 Accumulation Index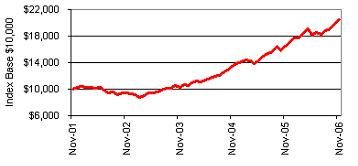 Once again, the media sector was one of the stronger performers last month, with the new ownership laws being a catalyst for buying activity. Network Seven jumped 15% as half of its assets were sold to a United States (US) based private equity firm. However, it wasn't just the media sector that attracted takeover interest. Qantas shares jumped 17% following a takeover bid from a consortium led by Macquarie Bank.
After recovering some lost ground in October, resource companies weakened again over November as expectations swung towards a softer global economic growth outlook. Telstra also detracted from the market's performance with a 5% fall in price. However, the T3 share issue was generally considered to be a success with the Government able to offload a further 33% of the company to now hold only 17% in the Future Fund.
Smaller companies continued to outperform the general market with the smaller companies index rising by 3.9% over the month. The annual return from small companies now stands at an impressive 31%.
Our view
With the economy and corporate earnings growth slowing, investors should treat the increase in share prices over recent months with some caution. Several overseas markets appear to be better value than the Australian market, and we maintain its slight tactical underweight position to Australian equities.