International shares as at 30 November 2006
Most overseas sharemarkets also provided positive returns over November. For investors with hedged currency positions, the average return for the month was 1.1%, bringing the annual growth rate to 15.1%.
World MSCI Equity Index Unhedged (ex Aust)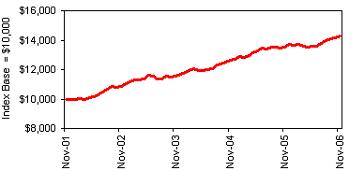 A significant appreciation in the value of the Australian dollar however, impacted on the returns of investors with unhedged currency positions last month. The rise in the Australian dollar to US 79 cents, restricted unhedged international share returns to just 0.4% last month. Annual returns to unhedged international investors now stand at 12.6%.
Japan moved against the general trend last month, with the Nikkei Index dropping 0.8%. Whilst Japan continues to show consistent economic expansion, concerns over possible interest rates rises have created negative sentiment on its equity market over the past 3 months. Other Asian sharemarkets continued to surge ahead with Hong Kong rising 4% and Singapore up 5%.
Further evidence of favourable profit growth for US based corporations provided positive impetus to the US market, with the S&P 500 Index advancing 1.7%. Sentiment in the US appears to have lifted over the second half of this year with the market gaining 10% in the past 6 months. Similarly, solid economic growth in the European region has boosted its sharemarkets by 11% over the past 6 months, although returns were generally flat over November.
Our view
Evidence continues to mount that the outlook for both Europe and the US is for moderate and steady economic growth. This environment, combined with continued buoyant activity in Asia and many emerging markets, remains favourable for international sharemarkets. As such, a tactical overweight position is warranted.