Steamed pear and ginger pudding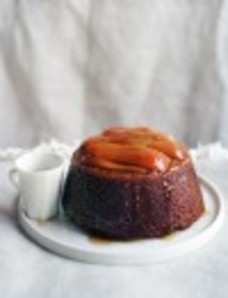 Serves 6
Cooking Time Prep time 20 mins, cook 3 hours 20 mins


| | |
| --- | --- |
| 300 gm | caster sugar |
| 125 ml (½ cup) | dessert wine |
| 1 tsp | finely grated fresh ginger |
| 2 | limes, juiced and rinds finely grated |
| 4 | small buerre bosc pears, peeled, cored and quartered |
| 150 gm | soft butter |
| 2 | eggs |
| 2 tsp | ground ginger |
| 2 tbsp | finely chopped crystallised ginger |
| 2 tbsp | golden syrup |
| 300 gm (2 cups) | self-raising flour |
| 250 ml (1 cup) | milk |
| To serve: | clotted or double cream |
Combine 150gm sugar, dessert wine, fresh ginger and lime juice in a saucepan and stir over medium-high heat until sugar dissolves. Add pears, bring to a simmer and cook for 20 minutes or until pears are just tender. Using a slotted spoon, transfer pears to a bowl and set aside. Bring syrup to the boil and cook for 10-15 minutes or until reduced to 100ml. Pour 20ml of syrup into the base of a buttered and sugared 2 litre-capacity pudding basin and arrange half the pears in base. Add remaining pears to remaining syrup and set aside.


Using an electric mixer, beat butter and remaining sugar until pale and creamy, add eggs, lime rind, ground and crystallised ginger and golden syrup and beat until incorporated. Add flour and milk alternately and beat until smooth, then spoon over pears in pudding basin, smoothing top and covering closely with a round of baking paper. Cover with a double layer of foil and secure with string. Place in a large saucepan and pour in enough boiling water to come halfway up the sides of the basin. Cover with a lid, bring to the boil over medium-high heat, reduce to a simmer and cook for 2 hours 45 minutes, topping up with extra boiling water when necessary. The pudding is ready when it's springy to touch.

To serve, carefully invert pudding onto a serving plate and serve warm with reserved pears and syrup and clotted cream.

SOURCE: Gourmet Traveller - Recipe Emma Knowles - Photography Con Poulos.