Priced for a recession, and then some
Australia's Department of Treasury, the Reserve Bank, the International Monetary Fund and the majority of private sector economists are predicting that the Australian economy will continue to grow over the next 12 months and avoid a recession (a recession is typically considered to exist when there are 2 consecutive quarters or more of negative economic growth).

However, this prevailing consensus view of the Australian economy is somewhat at odds with financial markets, which have priced our share market at similar valuation discounts to those in the US and Europe where a recession, and the subsequent significant erosion of corporate earnings, seems far more certain. Brokers Citi Simth Barney suggest that at current levels the Australian share market has priced in a 30% reduction in company earnings over the next 12 months. This compares to a 25% fall in earnings in past economic down turns.
Share price movements in past recessions
The chart below compares the annual economic growth rate to the annual rate of growth in Australian shares each quarter since 1973. It can be seen from this chart that:
Share prices tend to move ahead of economic growth and have only been partially accurate at predicting economic downturns. Sharp negative movements in share prices in 1987 and 2002 were not followed by negative economic growth.
There have been 3 periods since 1973 when economic growth was negative in annual terms. The recessions of the early 1970s, 1980s and 1990s were preceded by annual share price declines of 41%, 32% and 20% respectively.
The current annual decline in share prices of 38% is of a similar, or greater, magnitude than the declines associated with the 3 previous recessions.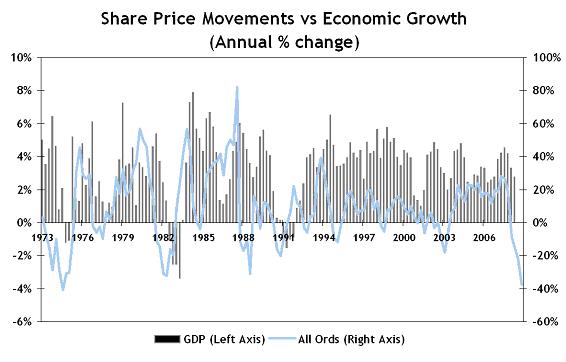 Source: ASX and Australian Bureau of Statistics. Data observation quarterly. December 2008 data taken as at October 2008.

Times have been worse
In terms of economic health, most would argue that the current position of the Australian economy is superior to that prevailing around times of the previous recessions. The early 1990s were characterised by excessively high interest rates in the range of 17% to 18%. This not only made business investment and expansion an almost impossible task, but also significantly reduced the value of equities relative to interest earning assets.

Both the early 1970s and 1980s were times of double digit inflation, with oil prices in the 1970s and wage pressures in the 1980s creating considerable uncertainty around future business profitability and general price stability. The devastating impact on profitability of significant industrial disputation in both periods has long being forgotten.
Shares will still be good value in a recession
Hence, even if most economists are wrong and the Australian economy does move into recession, it could be argued that this has already been built into share prices and should not be the cause of a further deterioration in the equity market. Given relative sound fundamentals within the Australian economy such as low inflation, low interest rates, a Government fiscal surplus and an improving trade balance, any flirtation with a recession should be relatively brief. A subsequent quick economic recovery should support a correction in equity prices from current lows.



Published by Hillross Financial Services Limited ABN 77 003 323 055. We are part of the AMP Group of companies. No remuneration or other financial benefits are paid to us or our related companies or associates for providing this publication. Any advice in this publication does not take account of your personal circumstances. Before relying on it to make a decision, you should consider how it applies to your overall circumstances or speak to a financial planner. Before deciding whether to buy or continue to hold any financial product including those referred to in this publication, you should obtain and consider the Product Disclosure Statement for the product, which is available from your financial planner. Although this information was obtained from sources considered to be reliable, we do not guarantee it is accurate or complete. Past performance is not an indication of future performance.