View from the Hill - Market update as at June 2007
Market update
The table below provides details of the movement in average investment returns from various asset classes for the period up to May 31, 2007.

Aussie shares advance despite volatility
Despite some large day-to-day instability, the Australian share market finished the month of May ahead by 2.6%. This was the 10th consecutive monthly increase and brings the annual gain for investors to 32%.
Returns by sector May 2007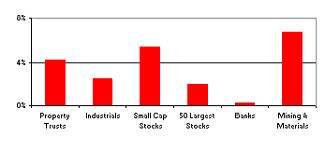 Source: van Eyk
Smaller companies and mining stocks were the best performers over May. The mining sector's performance was given a significant boost by non-confirmed takeover rumours about mining giant, Rio Tinto. Rio's share price rose by 16% over the month.

Smaller mining companies also had another strong month, with global commodity markets very supportive. Finishing the month 10% ahead, small resource companies have risen by an average 65% over the past year. The market has also been searching for value amongst small industrial companies as well, with the overall Small Companies Index rising by 5% last month and by 46% over the past 12 months.
Banking stocks underperformed the general market over May. Rising interest rates, both domestically and globally, dampened the sector's earnings prospects. Nonetheless, the sector still finished ahead by a modest 0.3%.
New records set on global markets
The bull run continued on major overseas markets last month. Average returns for investors were over 3%. With little movement in the value of the Australian dollar over May, returns were largely unaffected by currency positions.

The German market led the way with the DAX Index rising by 6%, as it did in April. This market has now gained 17% over the past quarter. Investors have become increasingly supportive of mainland Europe in recent months as share price valuations are attractive and the economic outlook the brightest it has been for some time.
World equity market returns May 2007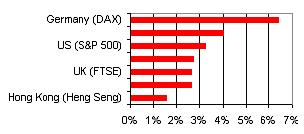 Source: van Eyk
Bouyant sentiment also continued in the United States (US). The economy continues to show signs of holding up and inflation still appears under control. The S&P 500 Index added another 3% over May and has now provided investors with an average 21% return over the past year.

Asian markets were held back to some extent by the news that Chinese authorities will be lifting stamp duties on share trading in China from 0.1% to 0.3%. However, the latest attempt to moderate activity in China had only a muted impact with both Chinese and Hong Kong markets finishing in positive territory.
Bond yields on the increase
There was little movement in shorter-term interest rates last month, with the Reserve Bank once again leaving the overnight cash interest rate unchanged at 6.25%.

However, Australian longer-term yields did rise over the course of the month in response to news of acceleration in domestic economic growth and higher interest rates overseas. Australian 10-year bond yields were around 0.1% higher to close the month at just above 6%.
10-year bond yield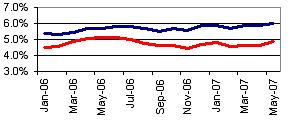 Source: Reserve Bank of Australia
The rise in overseas interest rates was more significant, with the US 10-year bond yield increasing 0.3% to 4.9%. A tightening of monetary policy by the Bank of England in May (bringing the British cash interest rate to 5.5%), also added to the momentum behind rising interest
rates. With higher interest rates acting to reduce bond prices, returns on international fixed interest investments were slightly negative last month.
Takeover activity supports listed property
After being in negative territory for most of May, prices for listed Australian property trusts rallied late in the month in response to renewed takeover activity. The sector finished 4% ahead, to bring the annual growth in prices to 41%.
Listed property price movements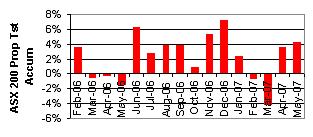 May's jump in prices was triggered by news that Investa Property Group had agreed with a takeover offer from US-based Morgan Stanley. The prospect that overseas buyers would increasingly target the Australian sector led to an overall revaluing of listed property prices by the market.

Following some weakness earlier this year, global listed property prices rose by just over 1% during May. Whilst global property prices have risen 26% over the past year, only 3% of this increase has come in the last 6 months.