View from the Hill - The Economy this month as at June 2007
Economic growth accelerates
The strengthening of economic growth that was present throughout the second half of last year has continued into the first 3 months of 2007. National Accounts data for the March quarter showed that Australian economic output, as measured by Gross Domestic Product (GDP), rose by 1.6%. This was the highest quarterly economic growth rate since 2003 and brings the annual rate of increase to 3.8%.
Economic growth - % pa change in GDP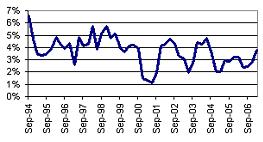 Source: Australian Bureau of Statistics 5206
A combination of strong private sector consumption and investment spending continued to be the main drivers of economic growth in the March quarter. As has typically been the case in this economic cycle, private sector spending outstripped production levels and as a result, net imports increased. In the March quarter, imports jumped by 2.2% - well above the 1.4% rise in exports.

The modest rise in exports was impacted by a drought related decline in output from the agricultural sector. Agricultural output has now dropped 21% over the past year. In contrast the quantity of output being produced by the mining sector is up 13%. The construction industry has also made a positive contribution to economic growth, with an 11% rise in the year to March. This construction activity has come despite generally weak levels of new house building; suggesting that non-residential building activity has been healthy.

Once again, the rate of growth in economic activity was highly disparate on a regional basis. The table below shows the rate of growth in demand in each State over the past year.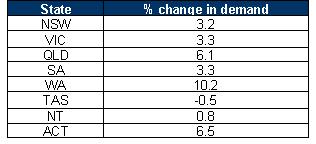 Source: Australian Bureau of Statistics 5206
Wages growth remains absent
Despite the buoyant economy leading to an ongoing shortage of labour, the rate of growth in wages continues to be moderate. The latest Wage Price Index suggests that wages increased by 1.0% in the first quarter, keeping the annual rate of growth virtually steady at 4.1%. The rate of growth in wages has not varied materially in recent times and has hovered between 3% and 4%.

The surprising lack of significant wages growth has been a critical part of the economic environment that has allowed economic output expansion without excessive inflation pressures. As a result there has been less upward pressure on interest rates than in other periods of economic expansion.