The 'Robin Hood' recession
The 'Robin Hood' recession

Often economic downturns will impact heaviest on those most financially vulnerable. Households with low to moderate incomes with high levels of debt typically have the least financial capacity to manage ill effects of a weak economy.

Certainly this was the case in Australia's most recent recession of the early 1990s. Interest rates in the range of 18%, combined with unemployment nudging 11%, had a catastrophic impact on the financial position of those with debts and limited spare income from which to service them. Earlier recessions in the 1980s and 1970s were characterised by run-a-way inflation, which made it particularly difficult for those on low or fixed incomes to maintain purchasing power.


Gains in the "mortgage belt"
In the current economic downturn, however, a number of factors are working in the favour of the loosely termed mortgage belt dwellers of our major capital cities. Somewhat ironically, it could be argued that "Howard's Battlers", who previously supported the Coalition Government in their droves, have so far been the biggest beneficiaries of the Rudd Government era.

The most significant change in the financial position of Australian households with mortgages has been driven by lower interest rates. Banks have passed on roughly 3.8% in home loan rate reductions since the Reserve Bank commenced its program of cutting official cash rates of by 4% late last year. For those with a mortgage of $200,000, this fall has cut the mortgage repayment bill by more than $6,000 per year.

Falling petrol prices obviously have a benefit right across the economy, however the biggest consumers of petrol are likely to be families in the outer suburbs of cities (as well as those in rural areas). Also of assistance has been the Government's fiscal stimulus package, which is providing highly targeted benefit payments for primarily for low-income earners and moderate income earning families.


Losses for self funded retirees
In stark contrast, self funded retirees appear to have been highly negatively impacted by recent economic events. Those with accumulated wealth in share markets have experienced not only a reduction in the capital value of their investments, but also some likely temporary short term earnings losses as companies trim back on their dividend payouts. Others relying more heavily on interest bearing investments have seen a decline income as interest rates have fallen to historically low levels.


The economic impact
Despite low levels of general consumer and business confidence, the improvement in the level of disposable income of many Australian households over the past 6 months appears to have at least delayed the onset of a technical recession in the Australian economy.

Whilst sales of luxury cars have dwindled and the price of harbourside properties weakened, overall consumption spending has held up as households have chosen to spend some of their additional disposable income. In the month of December, seasonally adjusted retail sales rose by 3.8%. Although much of this large jump in sales can be explained by the Government's one-off payments, it should be noted that small increases in sales were also recorded in October and November.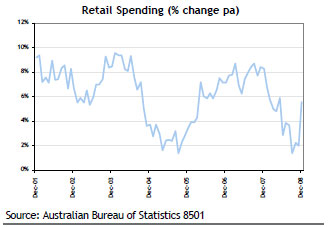 The relative shift in disposable income over the past 6 months has also influenced the relative performance of companies operating in the Australian economy. Food retailers have generally done particularly well of late, with some 80% of the annual growth in retail sales being attributable to this sector. This may help explain the relative strength in share price of companies such as Woolworths and Metcash. Other defensive or core sectors such as telecommunications and health care have also outperformed in recent times, as the boost in disposable incomes of lower income households has ensured that spending on essential type items has not been constrained.


Employment is the key
The ability of households in the "mortgage belt" to continue to provide a core and stable base of retail spending is highly dependent on the maintenance of low unemployment. Too great a rise in unemployment will lead to a significant fall in household incomes and the set up the economy for a "vicious circle" in which rising unemployment leads to declining spending, which in turn leads to further job losses. The avoidance of this "vicious circle" is the primary objective behind the Commonwealth Government's large spending stimulus. Hence if successful, this stimulus will not just benefit the direct recipients but the economy as a whole.



Published by Hillross Financial Services Limited ABN 77 003 323 055. We are part of the AMP Group of companies. No remuneration or other financial benefits are paid to us or our related companies or associates for providing this publication. Any advice in this publication does not take account of your personal circumstances. Before relying on it to make a decision, you should consider how it applies to your overall circumstances or speak to a financial planner. Before deciding whether to buy or continue to hold any financial product including those referred to in this publication, you should obtain and consider the Product Disclosure Statement for the product, which is available from your financial planner. Although this information was obtained from sources considered to be reliable, we do not guarantee it is accurate or complete. Past performance is not an indication of future performance.