Market view as at 30 November 2008
Market update
The table below provides details of the movement in average investment returns from various asset classes for the period up to 30 November 2008.
| | | | | |
| --- | --- | --- | --- | --- |
| Asset class* (% change) | 1 month | 3 months | 1 year | 3 years (%pa) |
| Australian shares | -6.2 | -26.1 | -40.0 | -2.8 |
| Smaller companies | -9.6 | -42.2 | -56.1 | -10.5 |
| International shares (hedged) | -6.1 | -32.6 | -41.5 | -10.1 |
| International shares (unhedged) | -6.1 | -12.2 | -23.2 | -4.7 |
| Emerging markets | -7.2 | -27.5 | -41.5 | -1.7 |
| Property – Australian listed | +0.3 | -29.3 | -52.1 | -12.7 |
| Property – global listed | -16.3 | -27.8 | -36.3 | -11.3 |
| Australian fixed interest | +3.0 | +6.4 | +13.4 | +6.9 |
| International fixed interest | +3.4 | +4.8 | +10.9 | +7.5 |
| Australian cash | +0.5 | +1.9 | +7.8 | +6.8 |
Australian shares
As was the case in September and October, the Australian share market followed global markets significantly lower over November. The ASX S&P200 Index fell by 6.2% during the month. This fall would have been greater if not for an encouraging late month recovery. In annual terms, the Australian share market has lost 40%, which is a similar magnitude to the falls experienced in the United States (US), Europe and Japan.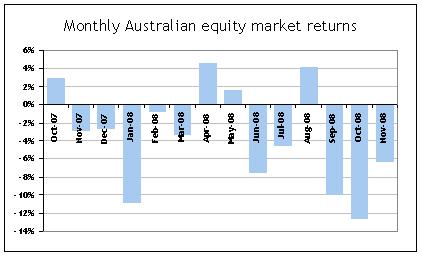 Source: van Eyk.
Australian banks fared particularly poorly over November as further difficulties were revealed in the global banking sector. The fact that authorities once again showed their willingness to support ailing banks, such as Citgroup in the US, did little to support share prices across the broader global banking sector. In November, Australian banks recorded an average price decline of 13%. There was a major disparity of performance within the mining sector over last month, following the announcement by BHP Billiton that it was abandoning plans to takeover Rio Tinto. This led to a 40% drop in the price of Rio Tinto, however BHP Billton gained support with an 11% price rise reflecting greater confidence in its balance sheet without the funding drain of a Rio takeover.

It was another poor month for smaller companies, with a 9.6% decline in the sector bringing the 3 month fall to 42.2%. Investors have become progressively less willing to support non blue-chip stocks. In contrast, defensive stocks with strong balance sheets continue to out-perform the general market. Telstra has been typical of these defensive stocks, with a price decline of just 2% last month.

International shares
November will be remembered as the month Barrack Obama won the US election. It was also the month in which confirmed that major economies in the northern hemisphere had moved into a recession.

In response to ongoing negative economic data, international equity markets fell by an average of 6.1% last month. With little change in the value of the Australian currency over November, unhedged and hedged international investments experienced similar returns.



Source: van Eyk. Returns in local currency

Falling interest rates failed to support share markets in continental Europe, which moved in line with the international average. The US market continued to experience extreme volatility, but also finished the month in a simialr negative range to Europe and Australia. The US S&P 500 Index fell by 7.5% over the month.

Asia fared better than most, with both Japan and Hong Kong down by less than 1%. The announcement of stimulatory spending by the Chinese Government appears to have had a postive impact on the region's share market. The Chinese share market actually rose 15% during November, offering a bumpy ride for investors given it's 56% annual decline (as measured by the Shenzen Composite Index).

Interest rates
Once again the Australian Reserve Bank announced a 1% reduction in interest rates to 4.25% in early December. Overnight cash rates have now fallen 3% since the start of September.

With a weakening economic outlook and further easing in short-term interest rates, long-term yields fell sharply in November. Australia's 10-year Government bond yield now stands at 4.6%, with the 0.6% decline in long-term yields creating healthy positive returns for fixed interest investors.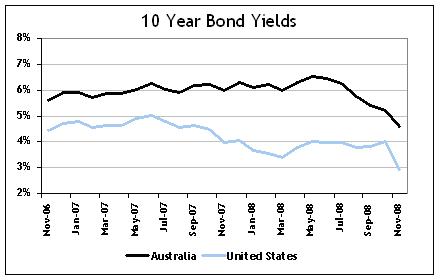 Source: Reserve Bank of Australia

Interest rates trends were similar overseas, with central banks in Britain, Europe and New Zealand announcing lower interest rates. As was the case in Australia, falling long-term yields created rising bond prices and positive returns for investors. The international fixed interest asset class produced a 3.4% return for the month.

Property
Some signs of stability returned to listed property during November, with the sector rising by 0.3%. Annual returns however, are still well below the general share market at negative 52.1%. Concerns remain that downward pressure will be placed on commercial and retail property values as forced sellers have added considerable supply onto markets in recent months.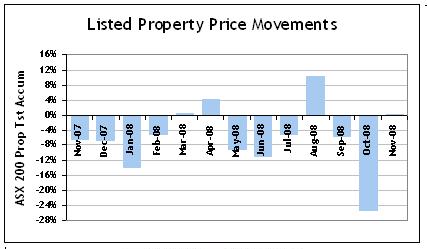 Source: ASX / S&P

Global listed property continued its slide, with a 16.3% decline in returns last month. Yields continue to appear attractive but remain under threat due to the general economic slow down.

Published by Hillross Financial Services Limited ABN 77 003 323 055. We are part of the AMP Group of companies. No remuneration or other financial benefits are paid to us or our related companies or associates for providing this publication. Any advice in this publication does not take account of your personal circumstances. Before relying on it to make a decision, you should consider how it applies to your overall circumstances or speak to a financial planner. Before deciding whether to buy or continue to hold any financial product including those referred to in this publication, you should obtain and consider the Product Disclosure Statement for the product, which is available from your financial planner. Although this information was obtained from sources considered to be reliable, we do not guarantee it is accurate or complete. Past performance is not an indication of future performance.