Market update as at 29 February 2008
The table below provides details of the movement in average investment returns from various asset classes for the period up to February 29, 2008.

Australian shares
Whilst the Australian share market finished the month just 0.7% lower, the small net movement masked yet another month of extreme volatility. With February being the fourth consecutive month of declining values, the annual return from Australian equities is now negative 0.7%.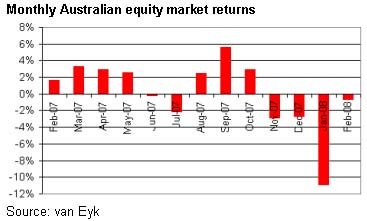 The pattern of price movement between the sectors was similar in February to other recent periods, with banks sold down heavily and resource and energy stocks being the best performers. This pattern reflected ongoing fears over the health of overseas financial institutions as news around loan losses stemming from United States (US) mortgages continued to worsen.
Resource companies, being somewhat removed from the financial sector's woes and encouraged by increases in some commodity prices, attracted renewed buying support. Higher oil prices, in particular, triggered increases in the energy sector with Woodside Petroleum (up 24%) being a prime example.
Investors also continued to sell out of stocks with higher than average levels of borrowings. Higher interest rates combined with expectations of further difficulties for certain companies in renewing loan arrangements contributed to the anti-debt sentiment. ABC Learning (down 52%) was a victim of this theme, whereas Telstra (up 12%) with its strong cash position benefited from the renewed desire for defensive balance sheets.
The December half year reporting season has led to some mixed results, with profits overall higher by an estimated 5%. There were some expected declines in resource company earnings whilst non-resource company results were generally positive.
Smaller companies finished February 3.8% higher. The outperformance of smaller companies was largely attributable to healthy gains in the price of smaller resource companies.
International shares
As was the case in Australia, major developed overseas share markets recorded small losses last month. For Australian investors with hedged currency positions, the monthly return was negative 1.5%. However, with the Australian dollar peaking towards the end of the month, currency related revaluations drove down unhedged returns to negative 5.2%.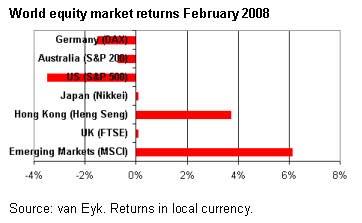 After performing slightly better than average in January's sell-off, the US recorded the largest declines of the developed markets last month. The US S&P 500 Index fell 3.5%, with the market unsettled over the worsening prospects for mortgage insurers in an environment of rising mortgage losses.
European and Japanese markets failed to bounce back from January's large declines as sentiment remained subdued due to a weakening global economic growth outlook. In contrast, many emerging markets recorded strong gains, highlighting the view that developing economies will continue to expand despite slower growth in the US.
Interest rates
Australian interest rates moved higher last month following tougher action and rhetoric from the Reserve Bank as it attempts to manage inflation. Monetary policy was tightened in both early February and early March, with the 2 successive 0.25% increases bringing the cash interest rate to 7.25%.
Expectations of a more prolonged period of tight monetary policy sent longer term yields higher as well. After opening the month at 6.1%, 10-year Government bond yields jumped to 6.5% before declining to finish the month at 6.2%. The rise in yields has pushed down the price of bonds, leading to negative returns for fixed interest investors. Over the past year, the Australian fixed interest asset class has produced a return of just 2.4%.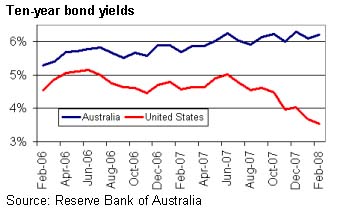 The gap between Australian and US interest rates has continued to widen. Consistent with the weakening economic outlook, US interest rates have continued to move lower, creating positive returns for international bond holders. The large gap between Australian and US interest rates has also been a significant factor in pushing up the value of the Australian dollar.
Property
It was another poor month for Australian listed property, with prices dropping by an average 5.0%. This brings the decline over the past 6 months to 27%. Westfield, by far the largest listed property trust, continued to out perform the sector average with a 2.5% fall. Smaller vehicles have been more heavily impacted by concerns over debt levels and refinancing prospects.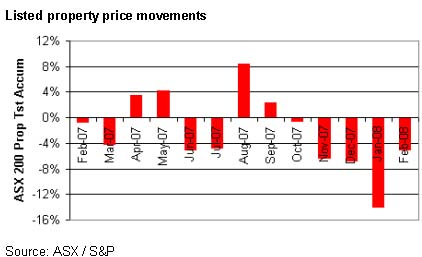 International listed property also recorded another negative month, with prices dropping 5.9%. The 6-month performance of this sector has been similar to that experienced in Australia with values falling 23.4%.