The profit reporting season and shares a year after the low
Introduction
So far this year, investment markets have been overwhelmed by concerns over premature monetary tightening, sovereign debt, financial sector regulation, US housing etc. However, while investors were hand-wringing over these issues, corporate profit results indicated that the profit cycle is now turning upwards. Stronger profits are likely to underpin further gains in shares over this year.

Reporting season results point to better profits ahead
Profit growth in the December half of 2009 in Australia was never going to be very strong, given it was very early in the economic recovery cycle. However, with the results now in, the basic message was that the recovery in profits (like that in the economy) arrived earlier than expected.
First, positive surprises dominated, with 49% of results coming in better than expected, compared with only 27% a year ago. In fact, the net balance of positive less negative surprises of +27% is the best it has been since the August reporting season in 2007, as shown by the next chart.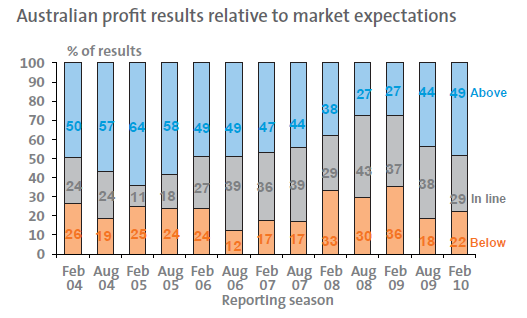 Source: AMP Capital Investors
Second, earnings are on the way back up again. About 60% of companies saw profits increase from a year ago, and after a two-year slump, net profit after tax rose around 12% in the December half compared with the June half.
Third, although cost cutting played a big role, there were also signs of improvement in revenue with an uptick in advertising for media stocks, premium rate increases for insurers, an increase in travel for airlines and an upswing in commodity prices for resources stocks.
Finally, cyclical stocks dominated in terms of the upside surprises – notably the banks, resources and media stocks – consistent with the initial cyclical upswing in the economy; and defensive stocks dominated in terms of downside surprises – notably healthcare and telecommunication companies.
Although company outlook statements retained a degree of caution, positive outlook comments dominated negative comments by a ratio of around five to one. Whereas a year ago, negative outlook comments dominated. The recovery in earnings per share has lagged that of net profit due to massive share issuance, but following better-than-expected results, consensus earnings-per-share growth expectations for the 2009-10 and 2010-11 financial years have been upgraded by around 4% and 2% respectively. Earnings per share are likely to grow by around 5% this financial year and around 25% in 2010-11.

Earnings reporting seasons for the December quarter in the US and Asia were also positive, although Europe was a bit more mixed.

One year after the low, expect share gains to slow
After a spectacular recovery from the bear-market low in March last year, it is reasonable to expect slower and more volatile gains in shares going forward. In fact, more subdued gains going forward would be consistent with the historical experience. During the post-war period, the first 12 months after a bear-market low saw an average 39% rise in US shares. This time the market has risen by 65%, which is more than normal, reflecting the worse-than-normal prior bear market. However, the average gain in the second 12 months is just 8%, albeit with a wide range of -2% to +21%. Similarly, in the Australian market, the average gain in the first 12 months following a bear-market low during the post-war period was 28%, but the average gain in year two was just 6%, although with a broad range of -25% to +24%. See the next table.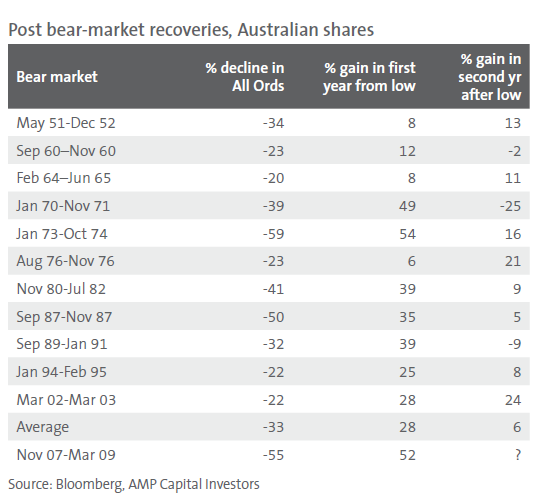 So it would be reasonable to expect slower gains going forward. After the initial bounce, shares are no longer dirt cheap as the fear of depression has been unwound and there are concerns about stimulus removal.

Earnings higher, shares cheaper
But after the strong gains up to January this year, shares experienced a correction which, combined with improved earnings expectations, has left them looking cheap again. The simplest way to value shares is to compare the level of share prices to earnings, and a common approach is to use the consensus of equity analysts' earnings expectations for the year ahead. This is called the forward price-to-earnings ratio. Australian shares are now trading on a forward price-to-earnings ratio of 13.5 times, which is below the recent peak of 16.2 times (reached late last year) and below the ten-year average of 14.5 times.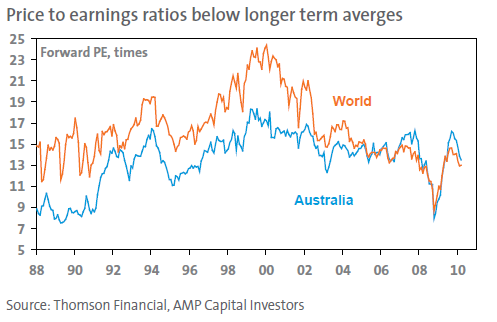 So, although shares are no longer trading on the low forward price-to-earnings multiple of 8 times that they fell to a year ago, they are not expensive either. It's a similar story for global shares.

The next chart shows an alternative approach to considering whether shares are good value or not. It compares the level of Australian share prices to the level of profits reported to the tax office each quarter. Although the gap has closed over the last year due to the slump in profits and the recovery in the share market, share prices still remain 20% below the level suggested by company profits. Weaker offshore earnings and increased share issuance may explain part of the gap, but they can't explain all of it.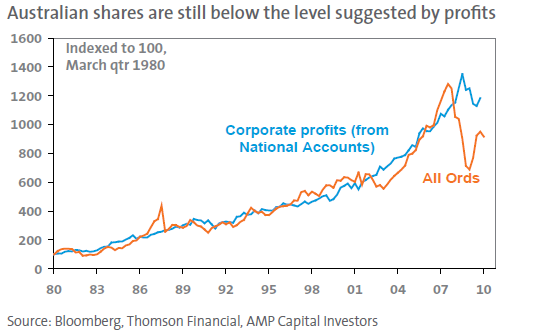 With profits now starting to head higher due to the improving economy, the share market is likely to be dragged higher, otherwise the gap will widen again.

Improving earnings support our view that the cyclical recovery in shares has further to run
In 2008 and early 2009, the macroeconomic backdrop for shares was terrible but it is now favourable. Economic and profit recovery is occurring at the same time that inflation and interest rates are low. There is also plenty of cash on the sidelines. On top of this, corporate gearing in Australia is now very low with a net debt-to-equity ratio just below 25%, compared with 60% in 2007. Over time, this is likely to be reversed, potentially boosting earnings per share, takeover activity or buybacks – all of which are positive for shares.
The average cyclical bull market in Australian shares in the post-war period lasted four years and saw gains of 132%. So far we have only seen a portion of this – with Australian shares having rallied 52% from their March 2009 lows. Although it is likely that we have now entered a more constrained period in the share market recovery cycle – with concerns around key risk factors of Chinese tightening, sovereign debt and US housing – the broad macroeconomic backdrop of improving profits and low global interest rates along with reasonable share market valuations suggests the broad trend for shares will remain up. History suggests that (short of a new shock) the time to really start worrying again will be when economic overheating returns, inflation becomes a problem and interest rates rise to onerous levels – all of which seems some time away yet.
Dr Shane Oliver
Head of Investment Strategy and Chief Economist
AMP Capital Investors