It's all been about confidence
Universal predictions that the problems of sub-prime housing loans and the resulting Global Financial Crisis would negatively impact economic activity in Australia have proven correct. One logical assumption behind these predictions has been that a crisis and downturn in the global economy will impact heavily on Australian exports and thereby reduce one important source of demand from the Australian economy.

Given that we are going through a financial crisis, whereby there has been a massive reduction in the willingness and capacity of financial institutions to lend, it has also been logical to assume that another negative influence on the Australian economy would come via a tightening of the supply of finance to businesses and consumers. This lack of finance would reduce the capacity of businesses and consumers to spend – removing another element of demand from the economy.

However, despite these logical assumptions, falling exports and a lack of availability of finance have not been the major contributors to the economic weakness so far witnessed in the Australian economy. It would seem that the deterioration in both business and consumer confidence has been of far greater importance.

Exports holding up
Despite a significant slowdown in the global economy, Australia's export income has so far held up very well. As can be seen on the chart below, export income peaked in October last year. Since then, however, export receipts have fallen just 13%, with the latest monthly data for March showing that exports this year are still running 30% ahead of where they were last year.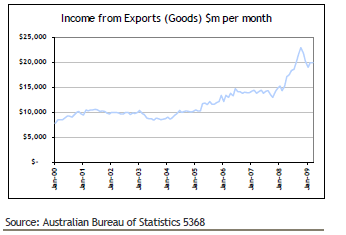 Australia's export income has been assisted by the fall in the value of the Australian dollar, which has made our exports more competitive on world markets. In addition, export income is still being boosted by very high iron ore and coal price contracts, which are now being re-negotiated downwards. However, with base metal prices rising strongly over April, some of the fall in iron ore and coal income may be offset by stronger metals prices in coming months.
Banks still lending
Unlike much of the developed world, Australia's banking sector is still profitable and has been able to maintain a steady level of loans. Credit data shows that the level of loans outstanding from the Australian financial sector rose by 5% over the year to March. Housing loans have grown particularly strongly in recent months, with March being the sixth consecutive month in which the value of newly approved housing loans increased.

Undoubtedly banks have tightened lending criteria. However, in recent months larger companies have been able to raise funds directly from investors via share capital raisings, and there has also been some debt raisings by corporations direct from investors (rather than via the banking system). This ongoing supply of finance to the corporate sector has been an important factor in maintaining business investment and employment.

Confidence down but there is hope
The downturn in the Australian economy since mid 2008 appears to be closely related to a fall in business and consumer confidence. National accounts data shows that, despite rising disposable incomes, households slowed their rate of growth in consumption spending. In addition, there has also been a large fall in inventories (stocks) - presumably by pessimistic businesses in anticipation of softer consumption spending. By running down inventories heavily in the December quarter of last year, businesses reduced the need to produce, thus causing economic growth to decline.

On a positive note, confidence can turn around relatively quickly and we have certainly seen signs of improving business and consumer confidence in recent weeks. Low interest rates, the Government's stimulus program and the rally on equity markets have all been important in creating this improved confidence. This renewed confidence provides some hope that the decisions of consumers and businesses over the course of 2009 will be such that ongoing deterioration in spending levels and economic growth can be avoided.

Published by Hillross Financial Services Limited ABN 77 003 323 055. We are part of the AMP Group of companies. No remuneration or other financial benefits are paid to us or our related companies or associates for providing this publication. Any advice in this publication does not take account of your personal circumstances. Before relying on it to make a decision, you should consider how it applies to your overall circumstances or speak to a financial planner. Before deciding whether to buy or continue to hold any financial product including those referred to in this publication, you should obtain and consider the Product Disclosure Statement for the product, which is available from your financial planner. Although this information was obtained from sources considered to be reliable, we do not guarantee it is accurate or complete. Past performance is not an indication of future performance.