View from the Hill - Market update as at September 2007
Market Update
The table below provides details of the movement in average investment returns from various asset classes for the period up to August 31, 2007.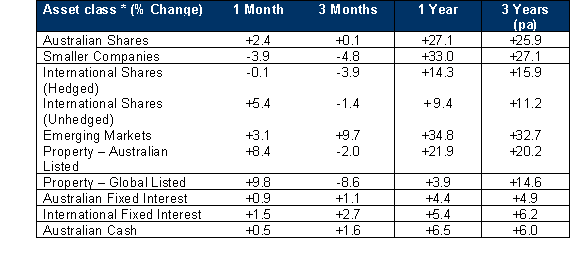 Australian shares rebound
The volatility on equity markets continued over August with a series of sharp declines mid-month followed by a strong rebound in the second half. Over the month as a whole the S&P ASX 200 Index finished 2.4% ahead, bringing the annual gain for investors to 27%.

Returns by sector August 2007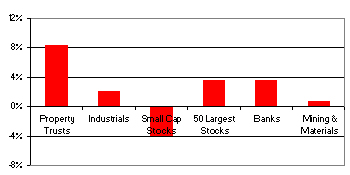 Source: van Eyk
August's rebound was driven by some very healthy Australian company profit results. It was also supported by improving global sentiment following the efforts of central banks to restore liquidity on money markets in the wake of the United States sub-prime loan crisis. The better-than-expected earnings numbers came from a number of companies across a broad range of sectors. CSL and BHP were 2 prime examples with respective profit improvements of 54% and 35%.

Despite the improving sentiment, investors still maintained a preference for larger, higher quality, companies. The smaller companies index fell by 3.9% over the month, following a 1.1% decline in July. In contrast, the 50 largest companies rose by 3.5% over August.

Investors also continued to shy away from investment banks given the ongoing uncertainty over the true impact of recent events in credit markets. Macquarie Bank, Babcock and Brown and Allco Finance Group all posted double digit declines during August.
Sentiment restored on global share markets
Although not rebounding with the same strength as in Australia, positive sentiment was restored on global equity markets in the second half of August. Most major markets finished the month relatively unchanged from their opening level after recording significant declines earlier in the month.

World equity market returns August 2007
Source: van Eyk
Australian investors who had their currency position hedged, experienced an average decline of just 0.1% over the month. Unhedged investors, however,benefited from a significant fall in the value of the Australian dollar, which allowed their international share investments to rise by 5.4% in August. Against the United States (US) dollar, the Australian currency fell by 4.2% to US 82.1 cents.

With the US Federal Reserve reassuring financial markets that it will be willing to help the real economy cope with the impact of the sub-prime loan crisis, the US equity market showed a strong recovery last month. The S&P 500 Index finished 1.3% higher to be 13% ahead for the year.

European markets were a little more subdued. The German DAX Index was 0.7% higher, whilst the FTSE in London dropped by 0.9%. Falls were also recorded in the Asian region, with the Nikkei Index in Japan dropping by 3.9%. Concerns over the economic growth outlook in Japan have dampened equity market prospects with the Nikkei falling 7.3% during the last quarter.

Credit margins widen further

As was the case in July, Government bond yields fell as investors sought high quality low risk investments. The subsequent bidding up of the price of Government bonds led to positive returns for fixed interest investors but falling ongoing yields.

Ten year bonds in the US fell by 0.3% over August to 4.5%. In Australia, the decline was more marginal with yields dropping 0.1% to 5.9%. The drop in Australian longer term yields came despite the decision of the Reserve Bank to tighten monetary policy and lift the overnight cash interest rate to 6.5%. Recent statements by the Reserve Bank and more bullish economic data have also firmed the probability of another interest rate rise later this year.

With longer term yields falling in recent months and the short term cash rate increasing, the yield curve in Australia has become more inverse, with cash interest rates providing a superior return to fixed interest investments.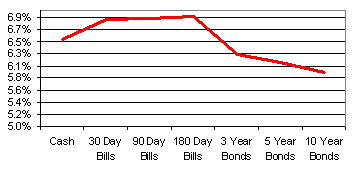 Source: Reserve Bank of Australia


There was a continued widening in most credit spreads over August. As financial markets have become more concerned about credit risk in the aftermath of the US sub-prime loan crises, interest rates on corporate and mortgage backed investments have risen. This has reduced the capital value of various investment vehicles with exposure to corporate, mortgage or hybrid securities.

Listed property reverses downward trend

Much of the negative movement in price that has been recorded by listed property investments this year was reversed in August, with the sector providing investors with an 8.4% return. Falling bond yields and an investor preference for "safe" assets led to significant support for property. Solid retail sales results may have also provided support for the large retail property component of the sector. Australian listed property has now increased by 22% over the past year.

Listed property price movements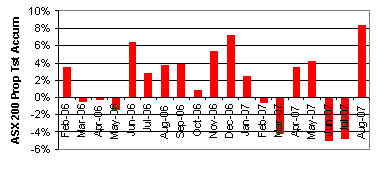 Source: ASX/S&P

It was also a positive month for global listed property, which had experienced a particularly poor July. The global sector gained 9.8% in August but has still fallen 12% over the past 6 months.
* Asset class returns based on the following accumulation indexes: S&P ASX 200, S&P ASX Small Cap Ords, MSCI World index (AUD - Hedged), MSCI World Index (AUD), MSCI Emerging Markets (AUD), ASX 200 Props Trusts, S&P/Citigroup Global REIT, UBS Warburg Composite All Maturities, JP Morgan Broad WGBI (AUD Hedged), UBS Warburg Bank Bill.