Monetary tightening and the recovery in growth assets
Key points
After very strong gains in equity markets (and other growth assets) from the lows in March last year, past experience after bear markets suggests rougher and more constrained gains ahead.
This reflects a transition in the investment cycle from the 'sweet spot' to a somewhat tougher environment, where shares are more dependent on earnings growth but momentum in leading growth indicators peaks and cost pressures and interest rates start to rise.
Although this may cause fluctuations and more constrained gains, the broad trend in shares and other growth assets is likely to remain upward. We are still early in a typical bull market, earnings growth is likely to be strong and global interest rates are likely to remain low.
More good news on the economic recovery
Recent weeks have seen more good news on the global recovery. Surveys of manufacturers continue to recover, the Organisation for Economic Co-operation and Development's (OECD) leading indicators of global growth are still rising strongly, the US labour market looks closer to jobs growth and this, along with improving US retail sales, suggests a better outlook for the all-important US consumer. Exports are also rising strongly in most countries.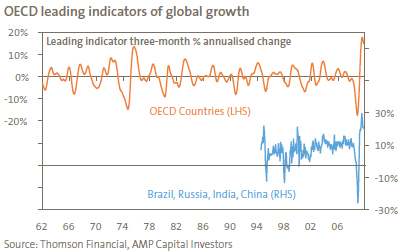 Share markets have reflected this good news by breaking out to new recovery highs. However, the obvious sting in the tail is that central banks and governments will eventually start to unwind the monetary and fiscal stimulus, creating speed bumps and uncertainty for growth assets.

Are the easy gains behind us?
After the spectacular recovery in growth assets in 2009, it is reasonable to expect slower and more volatile gains in the year ahead. In fact, past experience of recoveries out of bear markets suggests exactly that. During the post-war period, the first 12 months after a bear-market low saw an average 39% rise in US shares – so far the market is up 70% from its March 2009 low. However, as shown by the table below, the average gain in the second 12 months is just 8%.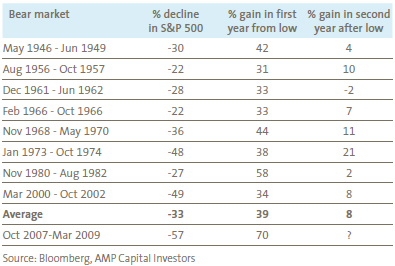 Similarly, during the post-war period in the Australian market, the average gain in the first 12 months following a bear-market low is 28% (compared to a 60% rise so far from the March low last year). The average gain in year two is just 6%, although with a broad range. Please refer to the following chart.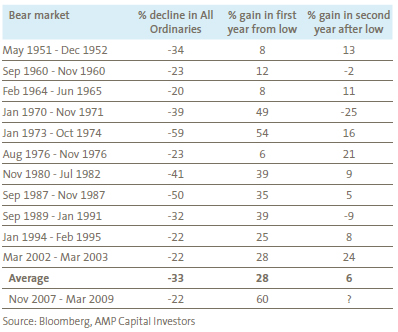 Post bear market recoveries, Australian shares
The slower gain in the second 12 months of equity market recoveries reflects the fact the initial bounce is usually from extremely undervalued levels as investor panic is unwound, whereas thereafter gains are dependent on earnings growth. Shares also start to become vulnerable to higher interest rates, as central banks move to unwind the stimulus put in place through the economic downturn. This essentially reflects a shift in underlying economic and investment conditions from the 'sweet spot' in the cycle (where leading indicators of growth are strong and accelerating, profits are being revised up but shares are cheap and inflation, interest rates and bond yields are low) to a tougher phase where growth momentum peaks but cost pressures, interest rates and bond yields start to rise.

2004 was a classic example of this transition. After a strong rebound in shares from their March 2003 'tech wreck' low, in late January 2004 the US Federal Reserve (Fed) foreshadowed a shift towards removing low interest rates. This led to a six to nine month period of correction and volatility in US shares, emerging markets and base metal prices.

The US economy is probably key this time around again. At present, there are some warning signs the US/global economy may be getting near the end of its sweet spot. For example, momentum in leading growth indicators has been so strong it may be close to peaking, if it isn't already doing so (refer to the first chart). Cost pressures may be starting to head up led by commodity prices and there are increasing signs the Fed is getting closer to starting to unwind its monetary stimulus. It has already signalled that most of its liquidity boosting measures will expire next month.

But further decent gains in shares are likely
However, while the historical experience suggests a somewhat slower, rougher ride ahead as we move out of the 'sweet spot' in the investment cycle, further solid gains are still likely in share markets and in other growth assets.

The first point to note is we are still in the early phase of a typical cyclical bull market. The typical cyclical bull market has lasted about four years in Australia and seen average gains of 132%, as compared to 10 months and a gain of 60% so far in this bull market. In the US, the typical cyclical bull market in the post-war period has lasted around five years (if the share slump of July-November 1990 is allowed for) compared to just 10 months so far.

Secondly, while the strengthening signs of recovery suggest the Fed and other central banks are getting closer to tightening monetary conditions, it should be noted that many of the liquidity boosting measures due to expire next month are no longer being used, as market conditions have returned to normal. More fundamentally, there are several reasons to expect the Fed and other key central banks to be slow in raising interest rates. Unemployment is now 10% in both the US and Europe. This, along with very low capacity utilisation rates in factories, suggests there is still downwards pressure on underlying inflation. Wage growth will stay low and it will be hard for companies to raise prices. Coming out of the last three recessions, the Fed only started to raise interest rates an average 12 months after the peak in unemployment and after unemployment had fallen an average 0.9 percentage points. While of course the Fed Funds rate is lower this time (arguing for an earlier move), against this, the unemployment rate is higher (arguing for a later move). While US jobs growth is likely to resume shortly, it may not be enough to prevent a further rise in unemployment until around mid-year. This would suggest that, allowing for a normal lag from peak unemployment, the Fed may not start raising interest rates till early next year. In other words, all the talk in December of an earlier than expected Fed tightening driving up the US dollar and pushing down shares, emerging markets and commodity prices looks premature.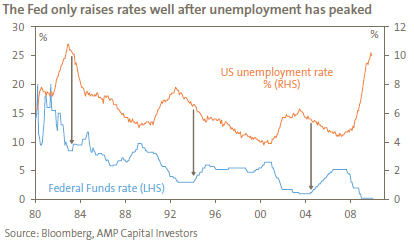 Also, there is little sign of an imminent and significant tightening in fiscal policy for key developed countries. With banks happily buying government bonds with near zero interest short-term money, there is little immediate pressure for them to do so.

Further, the backdrop of low underlying inflation and high unemployment in key advanced countries means interest rates will still be at very low levels well into next year, providing a strong incentive for investors to switch into shares and other growth assets.

Despite strong gains share valuations are still reasonable – around fair value on the basis of price to earnings multiples but cheap if the prospective yield available on shares is compared to the bond yield.

Additionally, profits globally and in Australia are still being revised up as revenues now start to surprise on the upside, adding to confidence that a strong surge in profits (+20% to 30%) will underpin share market gains this year.

Finally, while recent surveys show a high level of investor bullishness towards shares (which warns of a potential correction) it is worth noting that actual commitment to shares is still low: only 44% of participants at a Bank Credit Analyst conference in New York late last year said they were overweight shares, US mutual fund investors have been switching money from share funds to bond funds and in Australia cash in the superannuation system is still a high 16.6% (versus a norm of 10%). This suggests there is still plenty of cash that can come into share markets (and other growth assets) and push them higher going forward.

Conclusion
Cyclical rallies in shares normally end when valuations are stretched, cost pressures escalate significantly, and central banks adopt tight monetary policies to combat inflation. We are not there yet. So while the easy gains may have been seen and the environment for shares and other growth assets may get a bit rougher and more constrained in the year ahead, further gains are likely.

Dr Shane Oliver
Head of Investment Strategy and Chief Economist
AMP Capital Investors