March 2007 - Hillross Tactical View & the economy this month
The Hillross Tactical view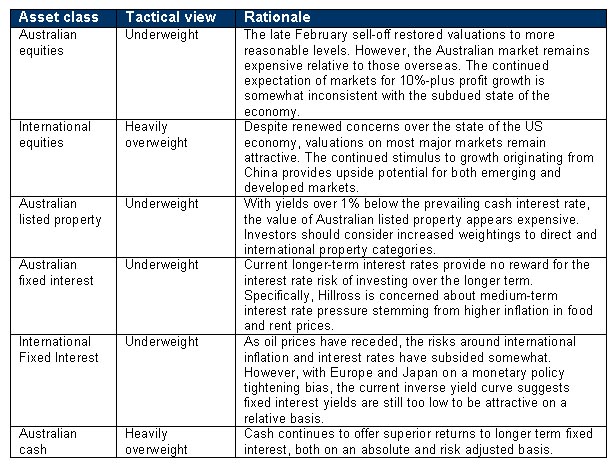 The economy this month
Growth beats market expectations
National Accounts data for the 3 months to December 2006 showed the Australian economy was growing faster than generally expected. The measure of economic output, Gross Domestic Product (GDP), rose by 1.0% – well up on the 0.3% recorded in the September quarter. Despite the increase, overall economic growth remains subdued, with the annual rate of increase being just 2.8%.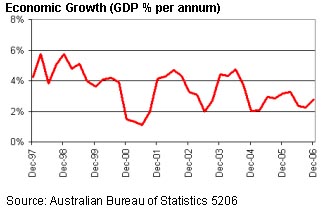 The December quarter economic growth data again reinforced a marked disparity between the states. Western Australia and Queensland are showing annual demand growth in the range of 7% to 8%. Growth in demand in all other states has been below 3% over the past year. New South Wales (at 1.8%) and Tasmania at (negative 2.9%) were the 2 weakest states in 2006.
Trade deficit widens
Australia's trade deficit has remained stubbornly high in recent years, despite the benefits that record high commodity prices have brought to our exporters.
During the December quarter of 2006, the Current Account Balance (ie the balance of what Australia earns and pays for trade in goods, services and income with overseas countries) jumped to a deficit of $15.1 billion. This compares to a shortfall of $12.6 billion in the September quarter. The annual Current Account Deficit now stands at $54.2 billion, or 5.4% of the annual output of the Australian economy.
Foreign debt mounts up
Whilst ever a deficit prevails on the Current Account, Australia must fund this deficit via monetary inflow from overseas. Much of this inflow comes in the form of borrowings, which contributes to the foreign debt. (The inflow can also come in the form of equity or property purchases by overseas investors). Australia's net foreign debt has risen by 11% over the past year. The debt now stands at $521 billion or some 53.0% of Gross Domestic Product. This is the highest level on record.