2008 - the year in review
The Economy
There was a synchronised downturn in economic growth over the course of 2008. Japan, the United Kingdom (UK) and the United States (US), all moved into a recession, whilst most other major economies, including China, are now experiencing significantly lower rates of economic growth.
The catalyst for the collapse in global economic growth was the US sub-prime loan crisis and and subsequent global financial crisis. In addition to causing significant loss within the world's financial sector, the crisis has significantly tightened the supply of finance to private sector and forced a contraction in spending in the major world economies. The crisis and the associated declines in property and share prices has also created a detrimental impact on business and consumer confidence, which in turn, has further reduced economic growth prospects.
Policy response to the crisis from the Governments around world has been swift. Actions have included direct assistance and capital injections to affected financial intermediaries, as well as an unprecedented lowering of interest rates and increased stimulatory spending.
Australia has been insulated to some extent from the worst affects of the global financial crisis, with a strong banking sector and healthy Government financial position being important defenses. A fall in the Australian dollar late in 2008 also helped offset some of the downside revenue impact on exports that falling commodity prices would normally have produced.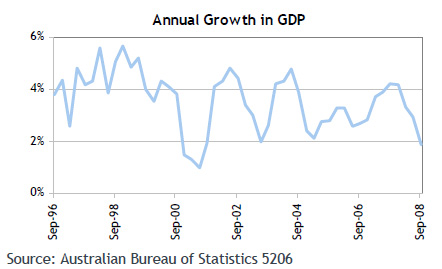 Despite its relatively favourable positioning, the fall in economic growth in Australia has been significant, with the September quarter economic expansion barely positive at 0.1%. The previous chart shows the annual rate of economic growth falling below 2% in September 2008, for the first time in 7 years.
Whilst much of Australia's economic data remains robust, indicators such as lower consumer confidence, the announcement of major company job losses and falling employment growth, all contributed to significant underlying softening in activity towards the end of 2008.

Financial markets
As evidence emerged that the global financial crisis was having a major detrimental impact on economic growth and corporate earnings outlook, equities, listed property and credit-linked investments were sold down heavily throughout 2008. In contrast, monetary policy easing and the weaker growth outlook supported falling longer-term interest rates, which generated positive returns for fixed interest investments.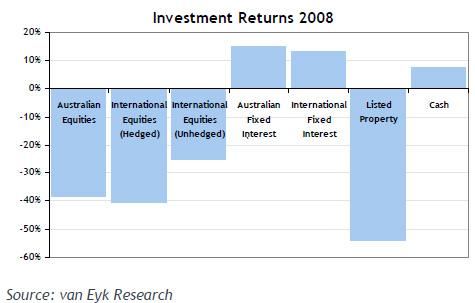 Australian equities
After 5 consecutive calendar years of positive return, Australian equity markets fell sharply in 2008. The ASX S&P 200 Index was 38% lower by year-end, with 9 of the 12 months of the year showing negative results. The fall on the Australian market generally matched the decline on major overseas markets, with a deteriorating earnings outlook, a lack of buyer liquidity and particularly
poor investor sentiment being the apparent drivers
of the sell-off.
With the financial crisis triggering a sell-off in banking stocks and resource companies impacted by declining commodity prices, the two largest sectors on the Australian stock market performed poorly over 2008. Showing the best defensive qualities was the healthcare sector, where the decline in price was restricted to 11%. The telecommunication sector, largely made up of Telstra, also performed better than the market average.
It was an exceptionally difficult year for smaller companies. Fragile investor confidence and fears that small companies would be most impacted by tightening loan availability saw the smaller company index drop by 53% over the year.
Given the extent of the fall in share prices over 2008, valuation measures have moved to extreme levels. Average dividend yields finished the year at 7.3%, whilst the price earnings ratio was well below average at 10 times. Both indicators imply markets are anticipating a substantial decline in earnings and dividend payments over 2009.
International equities
Although the sub-prime loan crisis originated from the US, the equity market fallout was felt uniformly across most developed country share markets. For Australians investing in overseas markets with their currency position hedged, the MSCI World Index showed that average returns for the year were negative 41%. For investors with their currency position unhedged, the falling $A supported the value of foreign investments and restricted the decline in returns to 25%.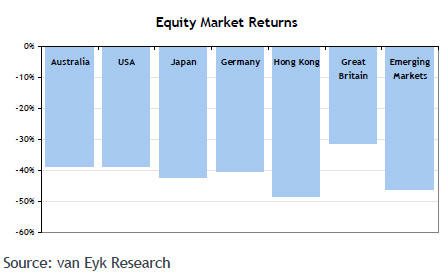 A feature of the contraction in economic growth over 2008 was the extent to which the decline was synchronised by the global financial crisis across Europe, Japan and the US. As such, the magnitude of the fall in equity markets in anticipation of lower earnings across these regions in 2008 was remarkably similar.

Movements in sectors across the regions have also been similar. As was the case in Australia, financial and resource companies contributed most to the sell-off, whereas defensive sectors such as healthcare, telecommunications and consumer staples performed somewhat better.
Although not facing the same issues around the financial sector, emerging markets declined heavily in anticipation that a lower rate of economic growth would curtail growth in exports. Losses were particularly severe in China (down 62% for the year), whilst collapsing energy prices contributed to a 74% fall on Russian equity markets.
Listed property
With property markets heavily reliant of the availability of debt to fund purchases, listed property prices around the globe were sold down heavily. Investor concerns were centered around both an expected decline in underlying property prices as well the difficulties evident that some listed property vehicles were experiencing in rolling over their own borrowings.
The Australian listed property sector finished the year down 54%. Falls on global listed property markets were also substantial, with the average returns of negative 46%.
Fixed interest & cash
Fears of inflation evaporated over the course of 2008, as the economic down turn became more entrenched. This allowed central banks to significantly reduce short-term interest rates. Indicator overnight interest rates interest rates in the US are now close to zero, whilst the Australian official cash interest rate commenced a fall from 7.25% in September to finish the year at 4.25%.
The substantial loosening in monetary policy and the weak outlook for economic growth and inflation, saw longer-term interest rates fall as well in 2008. In Australia, the 10-year Government bond yield fell from 6.3% to 4%. With falling yields, the price of bonds rose, creating an average positive return of 15% for Government bond orientated investments in Australia.
International bond market trends were similar, with US bonds gaining additional support and price growth as investors sought a "safe haven" for funds. US 10-year bond yields nearly halved from 4% to 2.3% over the course of 2008. Overall, the international fixed interest asset class provided a positive 13% return for the year.
In contrast, investments with exposure to corporate bonds performed particularly poorly over 2008, as the price of corporate linked credit securities dropped dramatically. The drying up of liquidity in corporate debt markets and fears of a rise in corporate defaults saw a significant re-rating risk measures not seen since the Great Depression. Average returns on international high yield corporate bond investments dropped by 28% during 2008.

Outlook for 2009
Economic data is likely to continue to worsen in the first half of 2009, as the impact of low confidence, increased consumer savings and reduced availability of debt continues to take effect. However, as has been the case in previous economic downturns, share markets are likely to reach their turning point ahead of the real economy. As such, a recovery on both equity and credit markets in the first half of 2009 is possible as investors look to take advantage of historically cheap valuations.
Property markets may experience a more extended period of weakness and uncertainty as tight lending conditions continue to limit the number and affordability of buyers.
Further falls in short term interest rates in Europe and Australia early in 2009, combined with ongoing weak economic data, may extend the momentum behind investor support for Government bonds (causing long-term yields to fall further). Ultimately, however, long-term interest rates will provide insufficient return to compensate for the inflationary risks of an economic recovery and bond yields are likely to adjust upwards to reflect this risk.


Brad Matthews
Hillross Chief Economist

Published by Hillross Financial Services Limited ABN 77 003 323 055. We are part of the AMP Group of companies. No remuneration or other financial benefits are paid to us or our related companies or associates for providing this publication. Any advice in this publication does not take account of your personal circumstances. Before relying on it to make a decision, you should consider how it applies to your overall circumstances or speak to a financial planner. Before deciding whether to buy or continue to hold any financial product including those referred to in this publication, you should obtain and consider the Product Disclosure Statement for the product, which is available from your financial planner. Although this information was obtained from sources considered to be reliable, we do not guarantee it is accurate or complete. Past performance is not an indication of future performance.